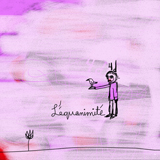 Equanimity is one of the most sublime emotions of Buddhist practice. It is the ground for wisdom and freedom and the protector of compassion and love. While some may think of equanimity as dry neutrality or cool aloofness, mature equanimity produces a radiance and warmth of being. The Buddha described a mind filled with equanimity as "abundant, exalted, immeasurable, without hostility and without ill-will."
[quote taken from
here
]
One of my favourite albums of last year was
Intercontinental Champion
by Winnipeg band
Boats
. Flipping traditional pop-rock song structure on its head the album was an inventive and surprising listen that rewarded repeat listens.
Based on multiple listens to
L'équanimité
, lately I've taken to referring to 4d as the Francophone answer to
Boats
. It's a bit pithy (or maybe it's trite?) to make the comparison, but it was my immediate reaction to hearing Dominick Lareau's musical project. (Though 4d's music is significantly more 'electronic' than Boats).
Lareau wrote, performed and produced this album on his own in his adopted home of Nunavik. Far from crafting an icy, claustrophobic work as some might expect if environs shape content,
L'équanimité
is vibrant, extroverted and chock-a-block with interesting musical ideas.
My comprehension of the French lyrics is limited, but according to Disques Fruit, the lyrics stem from "Teaching in Puvirnituq and in Inukjuak [where] Lareau experienced the realities of the Inuit community on a daily basis. Their difficulties and their courage as well inspired his most recent work." Admirable stuff, but my appreciation for the record stems primarily from the music, in the same way that I really enjoy Jorge Ben or Cafe Tacuba, but don't really know what the heck they're singing about. 4d like those two artists, speaks the universal language of music - and he's fluent.
Amongst my favourite tracks is "la momie," which features spookily-layered vocals and some ringing guitar, which echoes like it's pinging off the side of a glacier. Sadly I can't seem to find a link to a single downloadable MP3 of 4d, but there are two selections from
L'équanimité
on
Myspace
and one other one available on the
CBC Radio 3 site
.
4d's official site is
here
, and it's well worth checking out, if only for the curious artwork.
Thanks for reading, now start listening...